Dr Matteo Vigo Features in this month's Corporate Investment Times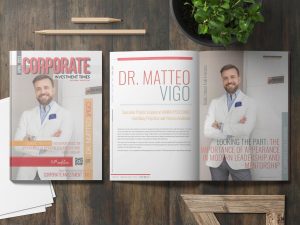 Specialist Plastic Surgeon at AMWAJ POLYCLINIC, Healthbay Polyclinic and Victoria Aesthetic, Dr Matteo Vigo shares his thoughts on the importance of appearance in modern leadership and mentorship in the April issue of Corporate Investment Times.
We all know that in the modern society the image has taken an important role in self affirmation. The rise of social media with lots of handsome people showing off their look is influencing every aspect of our lives. Teenagers are very conscious of body image and are extremely attentive to what they wear, how they look and what others think of them. Diets and personal trainer marketing are invading the online space offering any kind of solution to be always in shape and attractive.
Also, spas are increasing the range of their services in order to accommodate all the requests from the clients. Plastic surgery and aesthetic medicine are rising in popularity, also among men, with increasing number of treatments every year.
For this reason, it's no surprise that the appearance of modern CEOs and mentors is becoming more and more important. A well-groomed, presentable
appearance can make a huge difference in the way people perceive and respect you.
Recruiters and HR managers affirmed that during the interviewing processes the impact of the presentation of the candidate in terms of image is becoming one of the aspects to be evaluated.
Read the full feature article here.