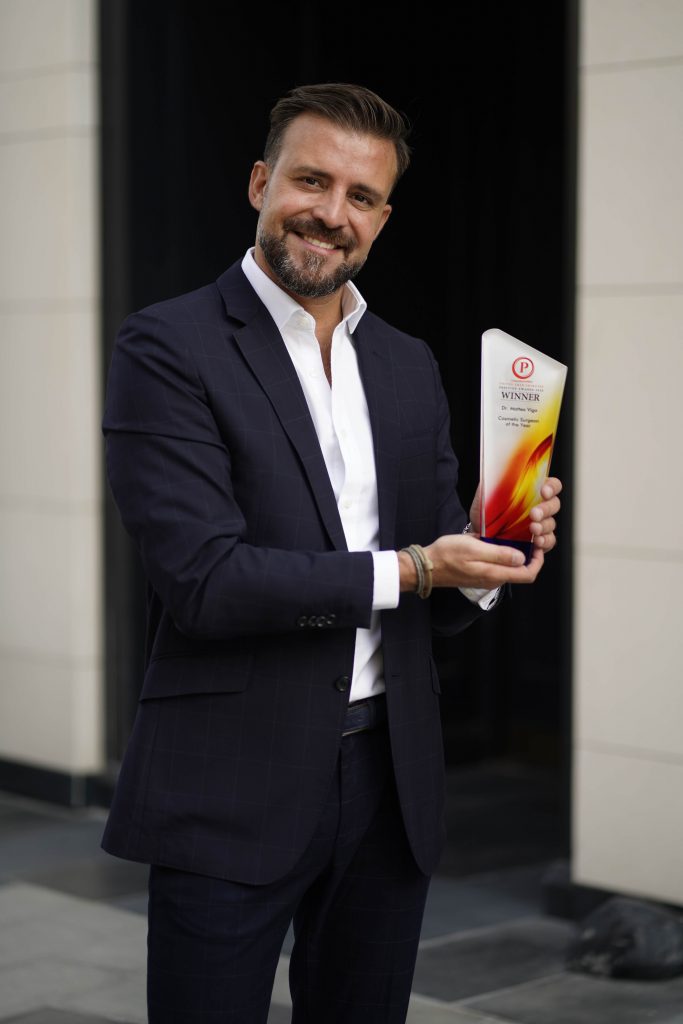 I was and am still highly delighted that I have received the prestigious award of Cosmetic Surgeon of the Year – UAE in the Prestige Awards.
Comments from the judges… "We commend Dr. Vigo for his focus on the needs of patients. His state-of-theart service is personalised from start to finish, with each staff member following a strict process from the moment that patients enter the door – fulfilling Dr. Vigo's motto of "because you deserve the best."
We also praise his forward-looking approach, with new strategies being developed in the use of human adiposederived stem cells for different sectors of plastic surgery. With exceptional, hands-on experience in breast surgery, liposuction procedures and much more, Dr. Vigo is a highly talented and accomplished plastic surgeon."
I am proud of such recognition since I always try to put all my expertise and my passion in what I do and I always want to deliver the best experience for the patients to be an unforgettable moment of changement for them.
Some of the information Dr. Matteo Vigo shared in the judging process when nomiated for the Cosmetic Surgeon of the Year – UAE in the Prestige Awards.
Overview
I am an Italian plastic surgeon operating in Dubai since 2012. I started as a visiting surgeon in American Academy Of Cosmetic Surgery Hospital, in Dubai Healthcare City. After only 1 year i have been called as a full time plastic surgeon gaining also the position of Chief Of Surgery And Chief Medical Officer for the above facility, roles that I covered up until 2017.
I then was called to start a new state of art clinic in the heart of DIFC in Dubai and i moved my pratice towards the free lancer role, becoming in few years one of the leaders of the market. I have been called several times as speaker in prestigious international conferences and have been former trainer for many companies both in plastic surgery and aesthetic medicine. I am now offering his services in 3 different top clinic in dubai (Amwaj Polyclinic- JBR, Helathbay Polyclinic- Al Wasl Road,).
I am an accomplished surgeon offering over 10 years of experience in performing challenging surgical operations encompassing plastic and reconstructive surgeries. Outstanding in performing fat grafting and breast surgeries (both aesthetic than reconstructive) as well as possessing impressive skills in facial cosmetic and body recontouring surgeries. Exceptional and hands-on experience in liposuction procedures, recently focusing on the use of ultrasound and rf assisted liposuction.
I have shown excellent leadership to guide a hospital and its staff to provide increase in service level for the patient and quality improvement, all skills achieved in 4 years of experience as cmo of one of the biggest hospital in the middle east for cosmetic surgery.
My Patients
My patients are both locals and expatriates who are looking for aesthetic improvement for their face and body. I offer both plastic surgery services, especially related to breast surgery both aesthetic and reconstructive, and aesthetic medicine (fillers, botulinum toxins, etc) . My motto is "because you deserve the best" and it includes my state of art service from a to z, where the patient is always put at the centre of attention and care from the whole staff.
My Aesthetic Service
Offering top quality level of aesthetic service, putting the patient as crucial point in the whole process. Using the latest technologies in order to target all the requests of the patients and satisfy every need. I have a strict process that all my staff applies to follow up the patient from the first moment he/she enters our door till the final outcome. Every step is monitored by myself.
Certifications
I can provide the certificates from the conference where i have been a speaker, such as AMWC Monaco, IMCAS Paris, 5 continent meeting Hong Kong, AIDA Abu Dhabi,
My Goal
I am implementing our services to the patients, enhancing their experience from the booking to the effective treatment, thorugh new online services, online consultations, offering the latest technologies in order to fullfill their needs.
My ultimate goal is to create a team of professionals ready to serve my patients in a olistic approach in order to ensure a high standar of care. I am also developing new strategies in the use of human adipose derived stem cells for different sectors of plastic surgery.